Francisco & Nathalie Arjona
Eva, Sonia & Samuel
After more than 35 years of ministry in Spain, we can say that we have seen God's faithfulness in our lives and in the ministries we are developing. What moves us to continue preaching the Gospel, making disciples, helping our neighbors and promoting the planting of new churches, is the Love that He has given us first.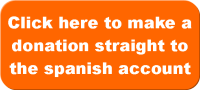 Francis has been the Spanish field national Director of ECM Spain during 22 years, he is the pastor of the Church in Pozoblanco, President of the "Buen Samaritano" Association, and national coordinator of the church planting movement in Spain called M4.
Nathalie is the executive secretary of the Good Samaritan Association, she is part of the MCE Iberoamerica council and its financial administrator, she also serves whithin the local church in different ministries (social help, discipleship and service direction).
If you would like to receive our regular update & newsletter, please get in touch with us by sending us an e-mail at francis.arjona@ecmi.org or nathalie.arjona@ecmi.org
Thank you!!
https://www.facebook.com/m4spain/
http://www.m4europe.com/
http://www.buensam.org